Control via Smartphone & App
With our app, you can control all your devices with your smartphone, you don't even need your remote! With more than 30.000 devices in its database, you can connect and control every device you own.
Set-up is a Breeze
Select "add a device" in the "devices" settings, begin typing the name of your device and your NEEO will find it automatically for you. And now you're done already!
Scenarios
Automatically generate cumbersome procedures. Replace tens of button-presses with a single tap on your NEEO. (It's really as easy as it sounds!)
The NEEO App
The NEEO App enables you to control the brain and all the devices in your home from one single app. There's no more need for jumping from one app to another to set the TV, sound system and lights.

The NEEO App is available for iOS and Android phones.
Set-up is a Breeze
Setting up all your devices is one of the biggest headaches when managing your home. We decided to fix that so it is extremely easy with NEEO. It takes just three steps:

1. Select "devices" in the settings and "add a device"
2. Begin typing the name of your device, NEEO will find it for you
3. Select your device and assign it to a room

Check out how easy it is in our video:
Scenarios
Scenarios, as we call them, enable you to automate cumbersome procedures. They are generated automatically as soon as you add and connect devices within a NEEO system.

For example, a situation allows you to grab your NEEO remote and tap the DVD icon. It will change all outputs and inputs of your devices accordingly and even dim the light. Wait a few seconds and you can press play. No, seriously. That's it. Check it out in our video!
Design
Our in-depth design process enabled us to find the right material, form, haptics & finish to create an amazing product. Too often we find that in-home technology products are made of poor quality material and show little respect for the home aesthetic, or lack the quality and style appropriate to everyday use. NEEO was built from the beginning to be a beautiful addition to any room. Every aspect of NEEO has been chosen with this goal in mind.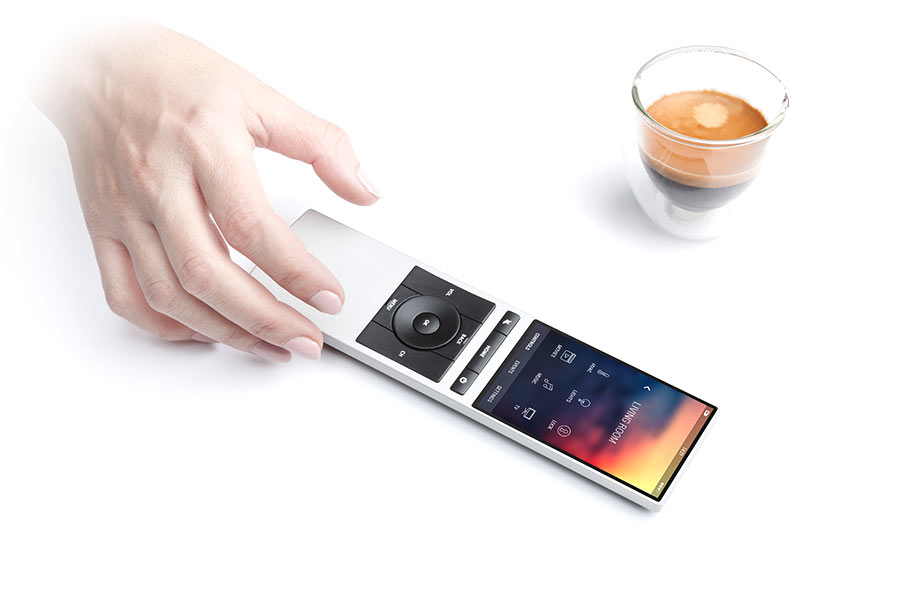 Design of the Brain
The aluminum body provides a lightweight rigid structure for the narrow casing, while acting as a heatsink for the components
The top and bottom of the brain are made of a specially manufactured acrylic glass
The round shape allows a 360° infrared distribution
The nylon braid power cable maintains a clean, elegant look
Design of the Remote
Etched from a single piece of aluminum, NEEO has a seamless design
Gorilla Glass protects NEEOs gorgeous high resolution capacitive touch display
The aluminum body also protects the display and provides the rigidity for the ultra narrow bezel design
Magnets in the charging dock ensure easy placement and correct position for charging